Paris Bus Tours
Paris OpenTour Bus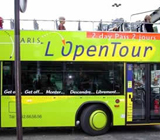 From: 32€
First thing to do when your arrive!!
Visit Paris and all the major places of interest in the city with Paris OpenTour Bus.
Enjoy fantastic views from the open top deck! 4 routes, 50 stops.
Let's enjoy a nice Bus Tour with the OpenTour, which gives you the possibility of getting on and off a much as you want.
Paris Open Tour is a tourist route which covers the important sites of Paris.

From the fleet of yellow and green double-decker buses you'll enjoy fantastic views of the capital from the open upper decks!
With 4 different connected lines and 50 stops all over Paris, you will have the opportunity to explore the French capital on this famous bus equipped with personal audio guides.

Original commentaries (French, English, Spanish, Italian, German, Japanese, Russian and Chinese/mandarin) over speakers on the 4 tours: Paris Grand Tour (green), Montparnasse – Saint Germain (orange), Montmartre – Grands Boulevards (red) and Bastille-Bercy (blue).
Options and prices Paris OpenTour Bus
1- One day Pass OpenTour Bus
Adult 32€
Children (4-11 years old) 17 €

2- Two days pass OpenTour Bus (consecutive days)
Adult 38€
Children (4-11 years old) 19 €
Availability of the Paris OpenTour Bus
From April 1st to October 31st
OpenTour is available everyday from 9.30 am to 8.00 pm every 15 mins.

From November 1st to March 31st
OpenTour is available everyday from 9.45 am to 6.00 pm every 15 mins.
Good to know about the Paris OpenTour Bus
Don't hesitate to switch between the different lines of the OpenTour bus to get to all the different areas of Paris!
Commentaries in 8 languages : French, English, Spanish, Japanese, German, Russian, Italian, Chinese
Individual hearphones

---