Loire Valley Tours
Loire Valley tour by minibus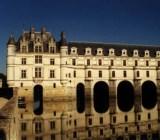 From: 232€
Day trips from Paris to Loire valley by minibus.
Have a day trip in one of the most breath taking and fairy area of France: the Loire Valley with its 42 castles from different periods.
Mostly built during the French Renaissance, with hints of Moyen Age style, 42 castles line the Loire river: Yesterday, they were the setting of French history, now, they are part of Unesco World Heritage. Have a one day trip in one of the most breath taking and fairy area of France.
Loire Valley trip tour description
Tours on Sundays and Tuesdays:

After having been picked-up from your downtown accommodation in Paris, you will be chauffeured by our driver-guide to a wonderful day in the Loire Valley. There, you will discover the famous castles and gardens of the Renaissance

You will be amazed by Chambord, "a marvelous chateau, which legend has that Leonardo da Vinci, then living at the Clos Lucé in Amboise, made several plans & models used for the construction of the chateau." "While visiting Chambord, you will also discover one of Europe's finest parks. The park covers over 13,000 acres and is Europe's largest wooded park." During your day in the French Countryside, you will also enjoy the visit of the cradle of the Renaissance, Chateau Amboise, one of the first truly royal residences of its kind. At Chenonceau you will admire the wealth of decoration both inside and outside, which makes Chenonceau the most popular chateau in France. You will have lunch at "Au Gateau Breton". The restaurant offers a fixed menu that is subject to change. The sun terrace in back of this 2-century-old Breton-type inn, a short walk from the château, is a refreshing place. In cool months, meals are served in the rustic dining rooms.

When booking this tour please enter the language of your choice for this tour in the field provided.

Tour on Friday: Romantic tour.

During this trip, you will:

• Be picked up around 6.30am at your hotel (or in front of the closest hotel from your apartment for more convenience - car access)
• Visit the Chenonceau Castle
• Have lunch in a typical restaurant, L'Auberge duCheval Rouge for instance
• Visit the Chambord Castle
• Possibilty to visit one more castle of your choice, or the Clos Lucé.
• Be back in Paris at 6.30pm.
Options and Prices
1- Tour by Minivan
Adult = 232€/pers
Child (4-11) = 174€/child


Included = Castles entrance and lunch
Availability
sundays tuesdays and fridays
Languages available
The tour is available in English, German, Italian, Portuguese, Spanish, Russian & French.
Duration
12 hours (approx)
Others activities you might enjoy
---