Discover Paris Tours
Segway Tours Paris - Day or Night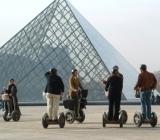 From: 90€
Innovative experience!
Segway: A unique, innovative and exciting tour of Paris.

Imagine cruising effortlessly through parks and along sidewalks while receiving a great historical and cultural information about the main highlights of Paris.
These tours have limited size so you can count on a great private experience.

The Segway is the first of its kind – a self-balancing, personal transportation device that requires no special skills to operate.
Segways are designed to be used in any pedestrian environment and will carry you gracefully throughout the 'City of Light'.

Riding a Segway and seeing the sites has never been as easy or more fun !
Options and prices
1-Segway Day Tour
Schedule:
Jan 1st - Feb 28th = 9.30am
March 01st - Nov 30th = 9.30am and 2.30pm
Dec 01st - Dec 31st = 9.30am
Price : 86€ (Adult/Student)

2-Segway Night Tour
Schedule: Only from April 1st to October 31st : 6.30 pm
Price : 86€ (Adult/Student)
Duration
Segway Day/Night Tours: 4 hours
Good to know
All riders must be at least 12 years old
No Segway day tour during the final day of the Tour de France or Christmas day
No Segway night tour: june 21st and july 14th.

Meeting Point
Near the Eiffel Tower, the exact location will be mentioned on your voucher.

---